Pritzker Promotes Illinois Biparty Energy Plans as Model at International Climate Conference | Illinois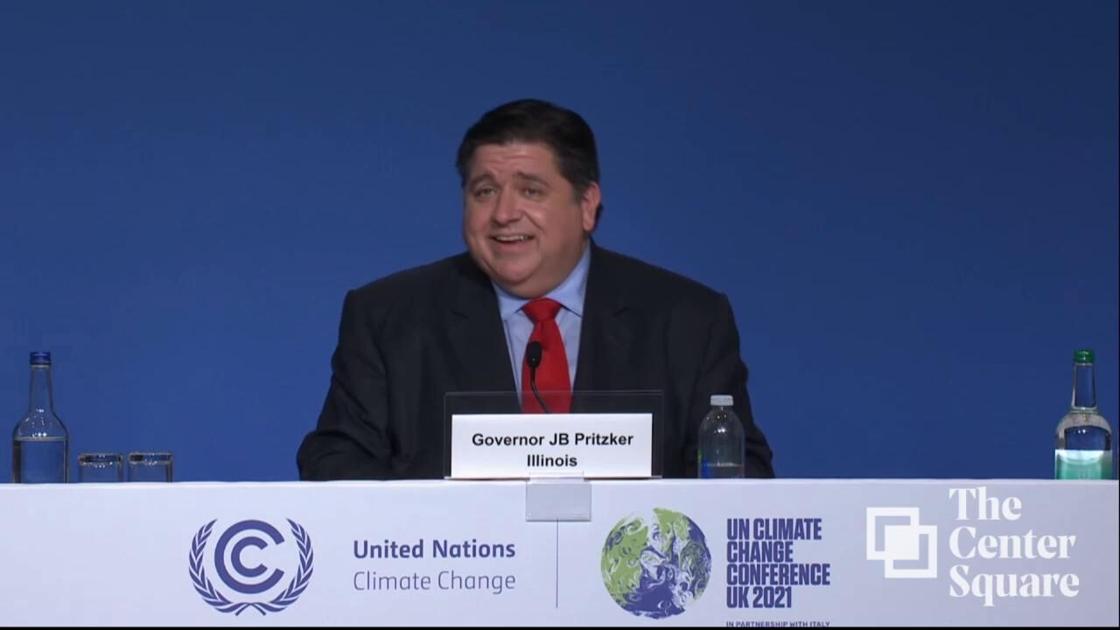 (The Center Square) – Abroad at an international climate conference, Governor JB Pritzker announces Illinois role in expanding renewable energy.
Pritzker has been abroad since the beginning of the month. After visiting London to meet with officials and potential investors, he then traveled to Glasgow, Scotland.
On Monday he participated in a press conference along with other governors to extol Illinois' recent significant changes in the energy landscape. These changes include shutting down coal-fired power plants by 2045 and increasing incentives to attract the manufacture and adaptation of electric vehicles.
"We know there is more to do and we will work hard on it," Pritzker said in his opening speech.
Recent measures are also helping the state's aging nuclear fleet with hundreds of millions of taxpayer subsidies.
"We have the largest nuclear fleet in all of the United States and it provides low cost electricity to the taxpayer and preserves the Illinois bridge to a zero carbon future," Pritzker said.
Other governors were asked about nuclear energy. Washington Governor Jay Inslee, a Democrat, said old forms of nuclear power are dirty and before expanding it further, decisions must be made about nuclear waste.
"In order for these old-fashioned systems to become competitive, we have to find a solution to any nuclear waste before there is an expansion, I believe," Inslee said.
Hawaii Governor David Ige, a Democrat, said they don't see this as part of their portfolio. Oregon Governor Kate Brown, a Democrat, said it was not allowed in her state.
The group of governors, who were all Democrats, were asked about a bipartisan approach.
Pritzker said some Illinois Republicans have endorsed recent policies when they focus on job creation.
"It is as much about economic development as it is about saving our planet," said Pritzker. "This is, I think, an important thing we should all say as we move forward with our plans to achieve these very short term goals."
Pritzker had company abroad. Some of his senior executives joined him on the trip. Pritzker's office has yet to respond to questions about the amount of taxpayer money expected for the trip.
Other state officials also attended the climate conference. House Speaker Emanuel "Chris" Welch, D-Hillside, and Senate Speaker Don Harmon, D-Oak Park, were with the governor for part of the trip.
In a Facebook post, Pritzker, Welch and Harmon hold up glasses in a pub.
"Our trip to the UK to promote Illinois and our status as a climate leader and place to invest in electric vehicles has been amazing," Welch said in an article. "There is only one more thing to say: 'This is London, this is for you'. "
Harmon's Facebook page posted the same photo with the message "Well done on a great trip to London promoting Illinois as a climate leader and one of the best places in the United States to bring the manufacture of electric vehicles. "
When asked what the travel budget was, Welch's office said no members of the President's office were present and Welch paid for the trip on his "personal card."
"He did not fly with the governor," said a Welsh spokesperson.
Harmon's office did not immediately respond.