On 1st Anniversary, Avelo Embarks on Orlando Expansion as CEO Eyes More Growth | In depth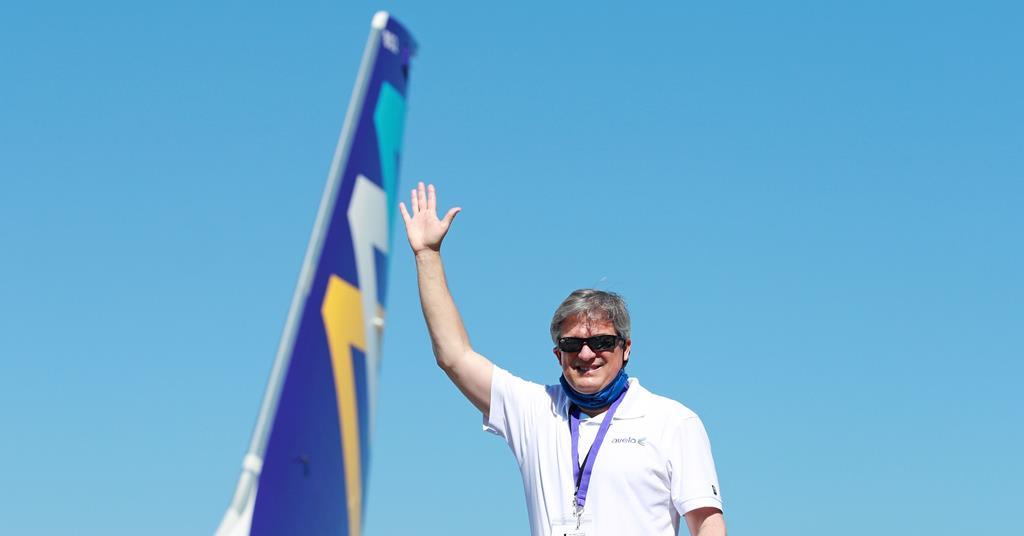 Exactly one year after its launch, Avelo Airlines embarked on a major expansion, revealing plans to establish a base in Orlando, add Wilmington, North Carolina to its network and launch several new routes.
The Houston-based airline's chief executive also plans further expansion as 2022 progresses.
Orlando International Airport will become the company's third crew base, joining two others, Avelo said April 28. Others include Avelo's home base at Hollywood Burbank Airport in California and its base at New Haven Tweed Airport in Connecticut, which opened in November 2021.
The carrier will base two 142-passenger Boeing 737-700s in Orlando, and plans to park more planes there in the third and fourth quarters of this year, it said.
Also this year, Avelo will move all of its pilot and flight attendant training programs to Orlando, with training to be provided by Avenger Flight Group. Currently, Avelo flight attendants train in South Florida and pilots train in Dallas, the airline says.
Avelo plans to start three new routes from Orlando this year as part of the expansion.
On June 30, it will begin three times weekly flights between Orlando and Charleston, South Carolina, using 737-700s.
Avelo announced its intention to exploit this route several days ago. Immediately afterwards, competitor Breeze Airways hit back, saying it would also operate the Orlando-Charleston route. Breeze advertised one-way fares of $39, undercutting Avelo by $20. Avelo has since matched.
Orlando-Charleston will be the first route on which Avelo and Breeze will compete. Both carriers launched operations in 2021 amid the pandemic, and both largely target back roads. Breeze will operate the Orlando-Charleston route using smaller aircraft – Embraer 195 and Airbus A220 – but with daily frequency. Silver Airways, which operates ATR turboprops, is currently the only airline operating the Orlando-Charleston route, albeit with limited frequency.
Avelo chief executive Andrew Levy believes his carrier's larger 737s, with lower seat-mile costs, provide a competitive advantage.
Also on June 30, Avelo will launch five weekly seasonal flights from Orlando to Baltimore – an incredibly competitive route already served by Spirit Airlines, Frontier Airlines and Southwest Airlines.
Levy admits Orlando-Baltimore is an outlier for his carrier, which has otherwise tended to operate routes with limited competition. But he sees an opportunity, noting that Orlando's air capacity is down from 2019 levels, while demand and fares are up. "We're sort of skimming traffic on this road for three months," he says.
Avelo plans to operate at least 10 routes from Orlando by the end of 2022. "There are actually a lot of places that don't have [direct] service," says Levy. "There are a number of other markets in Florida that we are considering as potential bases."
The airline has also rolled out new routes from Wilmington, a new city on its network. Avelo will launch three times weekly flights between Wilmington and New Haven on June 30. Then, on July 1, it will begin three times weekly flights between Wilmington and Orlando, and three times weekly seasonal flights from Wilmington to Baltimore, the airline said.
Wilmington routes are exclusive to Avelo.
LOOKING FORWARD AND BACK
As Avelo celebrates its first anniversary – the airline launched flights on April 28, 2021 – CEO Levy reflects on "a crazy year".
Two waves of Covid-19 "sent our bookings south just as we were gaining momentum," he told FlightGlobal. Other headwinds include supply chain issues, delays in aircraft deliveries and massive increases in fuel prices, which he considers by far the carrier's biggest headwind.
But launching during the pandemic allowed Avelo to take advantage of a surplus of experienced pilots, cabin crew and airport staff. "Now it's the exact opposite," says Levy, a green with United Airlines and Allegiant Air. To stay competitive during an acute labor shortage, Avelo twice raised its pilot salary by a "significant amount" and gave raises to other frontline workers, it adds. .
The carrier says it has no trouble recruiting new workers, saying employees are drawn to its small, entrepreneurial business and round-trip flights, which allow crew members to "sleep in their own beds ", explains the carrier.
Avelo says it already has 160 pilots and flight attendants and plans to hire hundreds in the coming years. The total number of company employees is more than 400.
Levy notes that the financial impact of increasing pay scales is somewhat mitigated by the start-up's lack of highly skilled personnel.
Despite rumors of a shortage of narrow-body jets, Levy says Avelo is able to lease all the used jets he wants, and at "phenomenal prices."
Avelo, which started with three 737-800s on the US West Coast, added five 737-700s on the East Coast, for a total of eight 737NGs, according to Cirium fleet data. Levy expects his airline to have 15 jets by the end of 2022.
Avelo's base in New Haven, which opened last November, has grown at a rapid pace, with the airline planning flights to 14 destinations from the city by the end of the year. The global network has more than doubled, from 12 destinations at launch to 27.
While several major US carriers have experienced significant operational issues over the past year, Levy said Avelo "runs a very good on-time airline." He rates on-time performance at 82% from day one and says load factors are now consistently above 80%.
Levy foresees further growth, saying the carrier could establish one or more additional bases before the end of the year.
The chief executive doesn't seem to mind a possible consolidation of US low-cost airlines, which he sees as making Avelo's fares lower and cost structure even more valuable.
As Avelo enters its second year, the airline will focus on breaking even and then making a profit. Despite industry pressure, Levy remains optimistic, saying, "I still believe we'll be there by the end of this year."